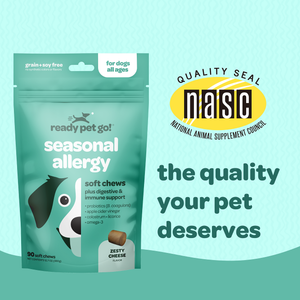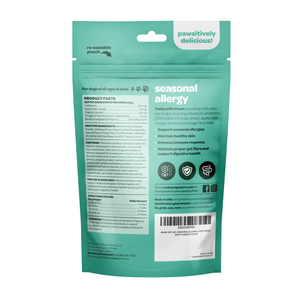 Seasonal allergy chews are loved by dog owners all over the world for helping to relieve their dogs from seasonal and occasional allergies.
Colostrum, Apple Cider Vinegar, Organic Licorice, Omega-3 Fatty Acids (from Salmon Oil), Bacillus coagulans (Probiotic).
USA Made
Satisfaction Guarantee
Soy Free
Grain Free
Corn Free
Free shipping in the US on orders over $35!
Pup comfort is our priority
Ready Pet Go! seasonal allergy chews help them maintain their health from the inside out, starting with a healthy digestive tract!
Customer Reviews
Took the edge off
I noticed a difference in both of my pit mixes in regards to skin allergies during the summer months, especially in my Luna who is a blue nose / American Bully mix. She normally suffers from awful skin allergies in the summer. This product definitely took the edge off! I will buy this every spring and give to my dogs until the middle of October.